For some, today is just another Monday. To others it is the 8th of March. And to around 50% of the population, it is our day; International Womans Day. Today is a chance to look at where we have came from, and where we have to go. Equality won't just happen if we sit idally by, we have to push for it.
In celebration of today, I wanted to conduct some research to find the most incredible women who were or are either from or for this City of Sunderland, and I was not disapointed!
Political Women
Dr Marion Philips – Sunderlands first female MP (Labour)
Not only was she the first female MP in Sunderland, but she won in the first election in which men and women had equal voting rights in 1929. Before she was elected she was a part of the Womans Labour League, worked towards a financial safty net for the poorest people at the time and was an avid feminist. The year before she was elected she wrote a letter to every woman in the city and stressed they use their right to vote. She was described as outspoken, independent, self sufficiant and resiliant.
Today, there is a blue plaque on Foyle Street, Sunniside to commemorate her. Although it has been mentioned that she is not very well known or heard of.
Ellen Bell, Sunderland's first female Councillor
Ellen Bell was the first woman to be a councillor for Sunderland when she was elected for town council in 1919. In her 23 years on the council she did a great deal of things to help educate and improve the quality of life for young girls and women across the city. Although she was councillor for Hendon, she also helped out in the Mowbray Road maternity home, ran a bible school, taught girls to sew and cook, and encouraged and supported local artists. In her political career she helped create opportunites, increase employment and imporve overall working conditions for women. She has been descibed as being able to 'hold her own' in a room full of men and not back down.
In 1939 she was awarded an MBE from the Queen for her dedication to the people of Sunderland.
Authors and TV Presenters
Mary Stewart – Author
Mary Stewart was a post war fiction novelest, born in 1916 in Sunderland. Her first novel was publushed in 1954 titled 'Madam will you talk' which followed a woman into danger following her concern for a child. Her early books were mostly suspense filled stories, and were lead by educated, intelligent and exciting young women. Mary detested the idea of the sterotypical woman in literature who didn't know any better and would get themselves in trouble. So she created characters who were the exacpt opposite.
Her later books turned more fantasty and were among her most successful publications. She also produced some poetry and childrens books later on. She led a long life and died in 2014 at the age 97. I haven't read any of her books but I will definatly try and get a hold of a couple!
Denise Robertson – TV Presenter and Author
Denise Robertson was a Sunderland Born author and TV presenter. Many will know her from her role as an agony aunt on ITVs This Morning where she was for just short of 3 decades. Her career started on Metro Radio in Newcastle before moving to ITV. She also hosted her own show 'Dear Denese' for a little while. Throughout her carrer as an agony aunt it is believed that she responded to over 200k letters from viewers who needed help and as a result of this was awarded an MBE for her services to broadcasting. When she died in 2016 from a battle with pancreatic cancer, many who knew her came out and described her in some incredible ways. She was described as incredibly kind and warm and that she didnt give up without a fight.
Following her death she was burried at the Grangetown Cemetary.
Musicians
Muriel Foster – Singer
Muriel Foster was born in Sunderland in 1877. Her and her twin sister would sing and perform to their parents from a very early age. When she was old enough, she enlisted at the Royal College of Music in London in 1896 and her talent blossomed. She was a Contralto sininger (which means she was able to sing at the lowest vocal range for a woman), and despite her talent she wasn't interested in opera singing. It is thought that she could have become even more successful if she had persued this. Instead her work took her to Liverpool where she performed in various productions. She became well known in Hull and performed their many times before making her way bacck to London for her debut in 1899. Later in her life she travelled to Toronto, Dusseldorf, Berlin, Frankfurt, Cologne and Holland with various performances!
She is thought to have been one of the best singers of the 20th century. However, she detested the idea of recording her own voice so unfortunatly there is little (if any) record of her singing voice for us to listen to today.
Ida and Lousie Cook, Singers who smuggled Jews out of Nazi Germany
You read that right. When researching for this post I had no idea the stories I would uncover. Ida and Louise were born in Millfield where there is a Blue Plaque commemorating their efforts. When they were a little older they moved to London where they fell in love with opera. Their talents took them to various european cities singing and in 1934 they discovered the persecution the jewish people were facing in Germany. At this point the Jewish people were still allowed to leave the country although they couldn't take their belonings with then to alert the germans that they were fleeing. And in order to be granted access to Britain they had to have either money or work to support them. The sisters helped smuggle 29 people out of Nazi Germany by going over in plain clothes and returning in riches. They carried the jews jewelry and bellongings and passed them off as their own. They also were able to convince some of their friends in Britin to help support the jews when they arrived.
These women risked their lives to help save people from a the Nazi Regime.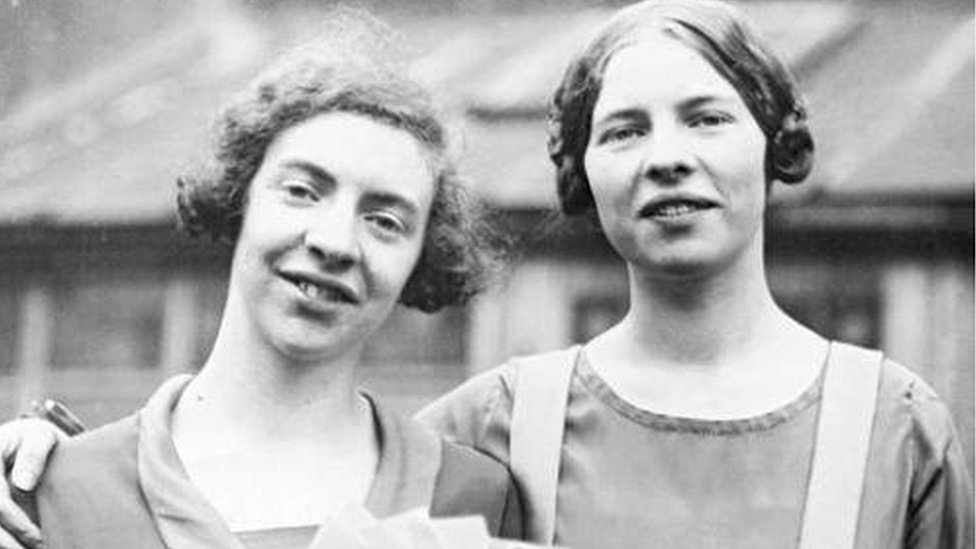 Emeli Sande – Musician
Emeli Sande was born in Sunderland to parents who met and studied at the University of Sunderland. Music was a passion of Emelis from a very young age and wrote her first song at aged 11. At 16 she was offered a record deal from MTV Studios in london, but decided to get a degree first as a back up. She studied neuroscience at the University of Glasgow before persuing her music career. She is now worth $8million USD and has produced 3 studio albums.
As a woman of colour she regulary speaks out about the racism she has faced and overcome to get to where she is. And regulary attends womens rights protests and last year, she spoke at the womans day festival in London.
Kenickie (Lauren Laverne, Marie Nixon and Emma Jackson) – Britpop Band
In a time when the charts were dominated by men, Kenickie came storming through the music scene in PVC mini skirts and wedges. This band from Sunderland made herstory as they became icons for young women. The band of four was made up of Lauren Laverne, lead vocalist, Marie Nixon, lead guitarist, Emma Jackson, Lead Bassist and Johnny X, drummer. The formed in 1994 and their first single Catsuit City came out in 1995. I have had a listen to them and they are honestly incredibe! Following their second single relsease in 1996 they opened for the Ramones at the Brixton Academy. Their success didn't stop as they later performed on Top of the Pops, at Glastonbury Festival and they met up with Cortney Love in New York who described the band as 'raw-boned northern girls'. The band from Sunderland never covered their mackem accents and were proud of where they had came from.
The band broke up in 1998 however, the absolutely left their mark on music and proved that northern woman can make it in music.
Industrial Women
Florence Collard, shipbuilder
During World War 2, all the men had left to go overseas and fight. This allowed women to stand up and fill their boots in the heavy industry jobs that were now vacant. In Sunderland, some 700 women stepped up to the plate and headed down to the shiprayds to help with the shipbuilding. One of those was Florence Collard. At the start of the war she was living in Portsmouth in the home of her and her husband who was overseas. When that was bombed, shes moved back to her hometown of Sunderland and joined the shipbuilding women. She is on this loist not only because she helped prove that women are just as able to do heavy work as men, but also because of the story told of her. One day she was in her kitchen in Sunderland when the walls fell down around. Unable to see due to black some she heard her neighbours voice helping her out of the house. She was informed that her house had been bombed as had some others in her street. Legen has it, she pulled on her coat and told her neighbour she had to go because she had work. She turned up for her shift on time and just got on with her day.
Her and the 700 women played a vital part in equality in our city.
Athletes
Jill Scott – Footballer
Jill Scott was born in Sunderland in 1987. When she was 7 she was playing for an all boys football team where she won a man of the match trophy. They had wanted to change it to 'girl of the match' but Jill kicked up a fuss and it was left as it was. She didnt want people to think she had won it because she was a woman. She attended Monkwearmouth school and her love of football continued. She joined Sunderland Woman FC at aged 18 and was awarded player of the month shortly after. The following year she moved to Everton and won player of the year. While at everton she helped the team win both the FA Permier League cup and the FA Womans Cup. In 2013 she moved to Manchester City and won the Continental Cup Trophy. She has also played her part in international football, as she was signed up to the England Ladies club where she has made 150 apprearences. In January of this year she has been loaned back to Everton.
In 2020 she was awarded an MBE for her services to womans football.
Stephanie Janyne Houghton – Footballer
Following on from Jill Scott, another Sunderland born footballer is Steph Houghton. She was a very sporty child and was first scouted at the age of 9. She played for the Sunderland youth team before signing for the main team in 2002. In 2007, she signed to Leeds where she had 45 apprearences and helped the club lift the Womens Premier League Cup. In 2010, she signed to Arsenal and then after 74 appearences, she moved onto Manchester City. She has also had a great run for the England team where she has played over 100 games. Today she is very much an advocate for equality. One of her goals is to help young girls get into football and is regularly speaking out for campaigns for womens rights.
In 2016 she was awarded the MBE for her services to football.
Extra Reading:
https://sunderlandculture.org.uk/rebelwomen/
https://www.seeitdoitsunderland.co.uk/news/international-womens-day-2019
These women are all inspirational and have helped us get one step closer to equality. This is not a complete collection of the amazing women of Sunderland, and the the two links above have more on them if you wanted tor ead them. Thank you for reading this post, I hope you enjoyed it. And thank you to these women who have played their part in our fight to be equal.
Happy International Womans Day
The North East of England is full of small; and independent businesses. So here is a Christmas gift guide with products from my favourite North East small and local businesses. At this time of year I always like to do what I can to support these businesses because if we don't use them, we will…
Prague, the capital of the Czech Republic is one of the most beautiful cities in Europe. Its nickname is the city of a hundred spires because of the many it has. Along with a rich and in some parts dark history, food and drink culture and stunning architecture, Prague is definitely a city worth seeing.…
High Force is perhaps the most famous waterfall in the North East. The waterfall is part of the River Tees in the equally stunning Teesdale Valley. You can make the most of your day by visiting the other nearby falls of Low Force and Summerhill Force. High and Low Force has been on my list…